Current Processing Time 2-3 days • FREE Shipping on orders $65 and up
Cranberry Citrus Splash Soap Bar
Regular Price

$4.25

Sale Price

$4.25

Regular Price

$7.50

Unit Price

per
Buy 3 or more for $7.00 each
Buy 5 or more for $6.50 each
Buy 10 or more for $6.25 each
Quantity Pricing may not apply for certain discounts/sale pricing
Cranberry Citrus Splash Soap Bar
Get ready to pucker up and feel invigorated with our Cranberry Citrus Splash Soap Bar! This little bar of goodness packs a punch with its perfect blend of sweet oranges and tangy cranberries. It's like a fruity dance party for your skin! With its classic and timeless scent, you'll feel refreshed and rejuvenated every time you lather up. Plus, the bright orange and deep red colors will add a pop of fun to any shower or bathroom decor. So go ahead, indulge in some citrusy goodness and let our tangy soap transport you to a whole new level of clean!
The soap is enriched with coconut oil, which is known for its moisturizing properties, and olive oil, which is rich in antioxidants, making it perfect for those with dry or sensitive skin.
Each bar is handcrafted, ensuring that every piece is unique, and the soap is cruelty-free and vegan.
Minimum 4 oz bar
Olive Oil, Organic Sustainable Palm Oil, Coconut Oil, Shea Butter, Water, Sodium Hydroxide, Fragrance, Oatmeal, Illite Clay, Kaolin Clay.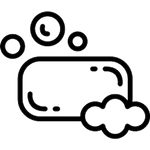 Natural oils, No harsh chemicals