Current Processing Time 2-3 days • FREE Shipping on orders $65 and up
Mysterious Soap Bar
Regular Price

$7.50

Sale Price

$7.50

Regular Price

$7.50

Unit Price

per
Buy 3 or more for $7.00 each
Buy 5 or more for $6.50 each
Buy 10 or more for $6.25 each
Quantity Pricing may not apply for certain discounts/sale pricing
Mysterious
Indulge your senses in a tantalizingly mysterious experience with our Mysterious Soap Bar! With its unique blend of scents, this soap will have you feeling like a modern-day Sherlock Holmes on a mission to uncover the secrets of relaxation.
The top notes of eucalyptus and sage provide a refreshing burst of energy that will invigorate your senses and get you ready for the day ahead. But wait, there's more! As you lather up, the rich spice, woods, vetiver, and patchouli notes will transport you to a world of pure luxury and sophistication.
But that's not all! Our Mysterious Soap Bar is made with activated charcoal, which means you'll also benefit from its deep-cleansing properties. So not only will you smell great, but you'll also feel fresh and rejuvenated.
And let's not forget about the soap's design - a stunning yin/yang pattern in black and white. It's the perfect unisex soap for anyone who loves a touch of mystery and elegance in their daily routine.
So what are you waiting for? Get your hands on our Mysterious Soap Bar today and start your day off right with a hint of intrigue and a whole lot of luxury!
Minimum 4 oz bar
Olive Oil, Organic Sustainable Palm Oil, Coconut Oil, Shea Butter Water, Sodium Hydroxide, Fragrance, Activated Charcoal, Kaolin Clay (White), Titanium Dioxide, Iron Oxide.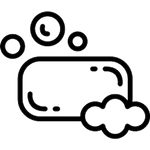 Natural oils, No harsh chemicals