Current Processing Time 2-3 days • FREE Shipping on orders $65 and up
Verdant Retreat Soap Bar
Regular Price

$8.50

Sale Price

$8.50

Regular Price

$8.50

Unit Price

per
Buy 3 or more for $7.00 each
Buy 5 or more for $6.50 each
Buy 10 or more for $6.25 each
Quantity Pricing may not apply for certain discounts/sale pricing
Verdant Retreat is an invigorating soap that ushers you into a tranquil oasis embraced by the wilderness. This refined fusion marries the brisk aroma of fresh greens, dynamic citrus, delicate jasmine blooms, and a subtle undercurrent of woodsy calm. Infused with camellia oil, shea butter, and kaolin clay, this soap offers more than mere cleansing; it's a restorative experience that leaves your skin recharged and invigorated.
Savor the robust fragrance and empowering ingredients. Allow the abundant lather to wash away the day's demands, offering a moment of self-care tailored for all. Transform your daily routine into a commanding sanctuary, where each use becomes a revitalizing ritual, reminding you to seize life's serene moments. Immerse yourself in the harmonious ensemble of scents and the touch of nature's abundance with Verdant Retreat – an authentic invitation to pause, if only for a heartbeat, and find strength in the grounding embrace of nature.
---
We Took our Green Fields soap bar and made it better with Verdant Retreat!
Minimum 5 Oz bar
Our larger square soap bricks weigh 5 - 5.5 Oz total
Olive Oil, Organic Sustainable Palm Oil, Coconut Oil, Shea Butter, Camelia Oil, Kaolin Clay, Water, Sodium Hydroxide, Fragrance, Oxides, Mica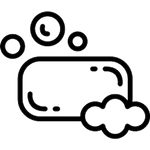 Natural oils, No harsh chemicals