Current Processing Time 2-3 days • FREE Shipping on orders $65 and up
State Fair Soap Bar
Regular Price

$7.50

Sale Price

$7.50

Regular Price

Unit Price

per
Buy 3 or more for $7.00 each
Buy 5 or more for $6.50 each
Buy 10 or more for $6.25 each
Quantity Pricing may not apply for certain discounts/sale pricing
State Fair time
The perfect way to bring the joy and excitement of fair season right to your bathroom. Our unique blend of scents and swirls captures the essence of cotton candy, making this soap a truly indulgent treat for your senses.
As you lather up with State Fair Soap, you'll be transported to a world of fun and excitement. The sweet scent of cotton candy fills the air, and the unique swirls in the soap are reminiscent of the colorful, swirling lights of the carnival. It's the perfect way to indulge in a little everyday luxury and to bring a little bit of fair season into your daily routine.
The unique swirls of State Fair Soap make it not only a treat for your senses, but also a treat for your eyes. The soap's colorful swirls add a touch of fun and whimsy to your bathroom, making it the perfect choice for anyone who loves a little bit of playful charm in their daily routine.
Minimum 4 oz bar
Olive Oil, Organic Sustainable Palm Oil, Coconut Oil, Shea Butter, Water, Sodium Hydroxide, Fragrance, Titanium dioxide, Kaolin Clay, Mica, Dye, Blue Lake #1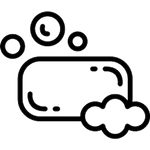 Natural oils, No harsh chemicals
enjoying this a lot
This really does smell like candy and bubblegum to me. So fun and whimsical. The soap is also well made, lathers up very well and is easy to rinse off. I will probably buy from this soap maker again!