Current Processing Time 2-3 days • FREE Shipping on orders $65 and up
Renewal Zen Shampoo Bar
Regular Price

$8.50

Sale Price

$8.50

Regular Price

$8.50

Unit Price

per
Buy 3 or more for $7.00 each
Buy 5 or more for $6.50 each
Buy 10 or more for $6.25 each
Quantity Pricing may not apply for certain discounts/sale pricing
Renewal Zen Soap & Shampoo Bar is a harmonious fusion of nature's finest ingredients crafted to provide a truly revitalizing and serene experience. With the perfect blend of tea tree, rosemary, peppermint, and lavender essential oils, this exquisite bar offers more than just cleansing; it offers a journey of renewal for both your hair and senses.  We added castor oil for more lather and bentonite clay is the secret ingredient that helps with hair and beards, and a touch of chamomile powder.
For hair and beard, a natural solid shampoo bar will do wonders!  This bar will last a long time when used just as a shampoo bar.  BUT it smells so good, you'll want to use it everywhere!
---
 Minimum 5 Oz bar
Our larger square soap bricks weigh 5 - 5.5 Oz total
Saponified Oils (Olive Oil, Organic Palm Oil, Organic Coconut Oil, Organic Shea Butter, Organic Castor Oil), Essential Oil Blend (Tea Tree Essential Oil, Peppermint Essential Oil, Rosemary Essential Oil, Lavender Essential Oil), Bentonite Clay, Chamomile Powder.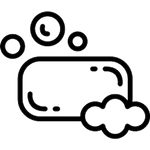 Natural oils, No harsh chemicals