Current Processing Time 2-3 days • FREE Shipping on orders $65 and up
Galactic Grove Soap Bar
Regular Price

$8.50

Sale Price

$8.50

Regular Price

$8.50

Unit Price

per
Buy 3 or more for $7.00 each
Buy 5 or more for $6.50 each
Buy 10 or more for $6.25 each
Quantity Pricing may not apply for certain discounts/sale pricing
Galactic Grove soap - the ultimate space-themed soap that'll take your grooming routine to a whole new galaxy.
This soap packs an earthy punch, with the manly scents of sage, fir needle, and cypress. We know you don't want to smell like a field of flowers, so we made sure our soap will make you smell like a rugged space explorer ready to conquer any planet.
But that's not all - we've added some kaolin clay and cranberry seeds to give you the ultimate deep clean. Say goodbye to rough and dry skin, and hello to smooth and supple skin that'll have your crewmates asking for your secret.
Each bar of Galactic Grove soap is handcrafted with precision, ensuring that you get a unique and manly experience with every use. The swirls of blue, silver, and purple will remind you of the vastness of space, and the powerful scents will leave you feeling like a warrior ready to take on any challenge.
So if you're ready to take your grooming game to the next level, grab a bar of Galactic Grove soap today. Your skin will thank you, and your fellow spacemen will be wondering how you managed to smell like a space cowboy.
---
Minimum 5 Oz Bar
Our larger square soap bricks weigh 5 - 5.5 Oz total
Olive Oil, Organic Sustainable Palm Oil, Coconut Oil, Shea Butter, Water, Sodium Hydroxide, Sodium Lactate, Kaolin Clay, Essential Oils: Clary Sage, Fir Needle, Natural Fragrance, Cranberry Seeds, Mica, Ultramarines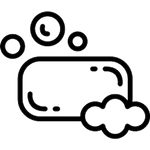 Natural oils, No harsh chemicals