Current Processing Time 2-3 days • FREE Shipping on orders $65 and up
Cool Peppermint Soap Bar
Regular Price

$7.50

Sale Price

$7.50

Regular Price

Unit Price

per
Buy 3 or more for $7.00 each
Buy 5 or more for $6.50 each
Buy 10 or more for $6.25 each
Quantity Pricing may not apply for certain discounts/sale pricing
Cool Peppermint Soap
The perfect way to invigorate your senses and rejuvenate your skin with a refreshing burst of cool mint. Infused with pure peppermint essential oil and crushed peppermint leaves, this soap is packed with natural goodness to give you the ultimate bathing experience.
As you lather up with Cool Peppermint Soap, the refreshing scent of peppermint will awaken your senses, leaving you feeling energized and invigorated. The crushed peppermint leaves provide a gentle exfoliation, removing dead skin cells and promoting healthy skin renewal, while the natural ingredients work to cleanse your skin without drying it out.
Our all-natural formula is gentle and non-irritating, making it perfect for all skin types. It's also free from harmful chemicals, so you can feel good about using it on yourself and your family. With its refreshing scent and rejuvenating properties, Cool Peppermint Soap is the perfect choice for anyone looking to refresh and invigorate their skin.
*Can irritate skin and mucous membranes, so avoid contact with eyes, inside of nose and sensitive areas.
Minimum 4 oz bar
Olive Oil, Organic Sustainable Palm Oil, Coconut Oil, Shea Butter, Water, Sodium Hydroxide, Peppermint Essential Oil, Peppermint Leaves.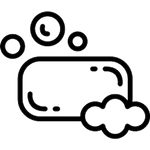 Natural oils, No harsh chemicals