Current Processing Time 2-3 days • FREE Shipping on orders $65 and up
Cedar Woods Shampoo Bar
Regular Price

$7.50

Sale Price

$7.50

Regular Price

Unit Price

per
Buy 3 or more for $7.00 each
Buy 5 or more for $6.50 each
Buy 10 or more for $6.25 each
Quantity Pricing may not apply for certain discounts/sale pricing
Say goodbye to boring, bottled shampoo and hello to our Cedar Woods Shampoo Bar! This premium hair care solution is like nothing you've ever experienced before. Infused with the power of cedar and balsam essential oils, this shampoo bar will leave you feeling refreshed and invigorated every time you use it.
But that's not all - our Cedar Woods Shampoo Bar also features crisp mint and menthol notes that will wake up your senses and leave you feeling revitalized from head to toe. Perfect for all hair types, including body, hair, and beards, this shampoo bar is a versatile and eco-friendly alternative to traditional bottled shampoo.
Made with all-natural ingredients, our shampoo bars are gentle on your hair and scalp, leaving them feeling clean and healthy. And because it's a bar, there's no need to worry about plastic waste or harmful chemicals. Plus, the compact size makes it perfect for travel or for anyone who wants to simplify their hair care routine.
Minimum 4 oz bar
Olive Oil, Organic Sustainable Palm Oil, Coconut Oil, Shea Butter Water, Sodium Hydroxide, Castor Oil, Cedarwood Essential Oil, Bentonite Clay, Peppermint Essential Oil, Copaiba Balsam Essential Oil, Patchouli Essential Oil, Peru Balsam Essential Oil, Menthol Crystals.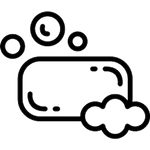 Natural oils, No harsh chemicals